About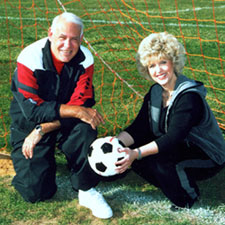 We began selling soccer products and accessories in June 1996. Setting up a small table for the 20 or so products we had at a local camp, we quickly learned that kids and adults alike really enjoyed buying our unique and useful soccer novelties.
We then began selling to soccer specialty stores in the fall of 1996 and more than 500 satisfied customers later our line of soccer gifts and soccer accessories has grown to over 150 selections.
Our goal remains to build our business by offering a wide selection of soccer trinkets and soccer jewelry available and what is vitally important is getting your purchase to you as quickly as possible in a safe and efficient manner.
Looking forward to filling your need for soccer stuff,
Harvey & Sheila